School helps to commemorate centenary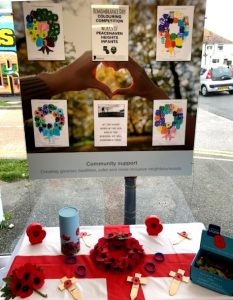 A Peacehaven infant school has helped to create a display of thanks to all who fought in the First World War.
The window display at Caring Lady Funeral Directors, in South Coast Road, also includes the original helmet of Funeral Co-ordinator Kerry Tester's grandfather.
Poppies, memories and colourful drawings are all on show to as a public displays of thanks ahead of the WWI centenary.
Kerry said: "I am very proud to be able to display my late grandfather Harold Roberts' hat in our window as my earliest memories of him were when he would get us to 'build' the poppies that he brought home from The Royal British Legion in September ready to sell in time for Remembrance Day.
"Every year he would organise trips to Dunkirk for the veterans. He was on the very last boat out of Dunkirk as the earlier one he managed to get on was bombed in the harbour and he was then sent back to the beaches.
Once peace was declared as he was part of the Bomb Disposal Unit for Monmouthshire Royal Engineers. He also served in North Africa and Egypt and was in the battle of El Alamein.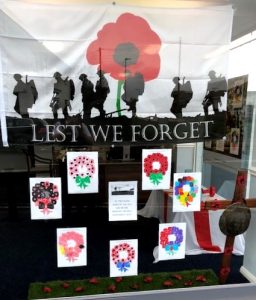 "His war diaries and uniform are on display in the Monmouth Regimental Museum and he is the only person ever to be given permission to have his ashes buried under the flagpole in Monmouth Castle. I always wear my poppy in pride in his memory."
Caring Lady Funeral Directors invited Peacehaven Heights Infant School to take part in a poppy colouring competition and the winner will receive a £20 voucher. The best picture will be chosen by a representative from The Royal British Legion.
As a special thank you, the school will also receive a £200 donation for some new playground equipment.